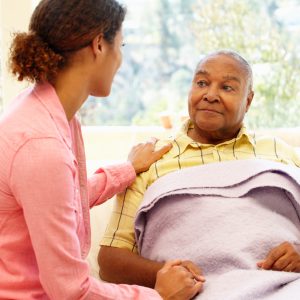 Caregivers are all around us. They are part of our everyday activities. But just because they are there doesn't mean they are all great caregivers. What separates your average caregiver from the great caregivers are some traits and work habits that stand out above the norm. Those who have experienced a great caregiver can easily make a list of what makes them exceptional and sets them apart from the crowd.  At Dobson Healthcare we work hard to hire only the best caregivers available.  Our Human Resource Department and Care Team Coordinators work hard to hire those who display the characteristics that make great caregivers:
Empathy and compassion. Dobson Healthcare caregivers work with people in their homes, therefore it is essential that our caregivers feel a strong desire to want to help. By showing empathy and compassion Dobson caregivers will let the person they are caring for know that they care about the person and want to do what they can to help them.
Patience.  When Dobson Healthcare caregivers work with someone who needs home care it is important that they are patient and understanding.
Reliable. Dobson caregivers are great caregivers that can be counted on to be there. If a Dobson caregiver is scheduled to be at a clients home to provide home care every Thursday morning, our caregivers shows up, unless there is an emergency. Those needing home care services need a reliable and dependable caregivers and Dobson prides our self in having caregivers who are!
Flexible.  As with most things in life, home care needs may change and unexpected events can happen. A Dobson caregiver will be prepared to go with the flow, being flexible, so that they can continue to provide good home care, even if a rigid schedule isn't being followed.