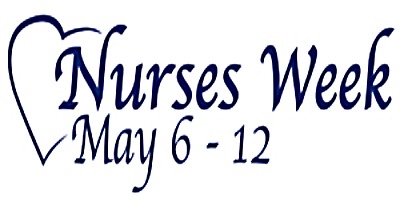 Have you thanked a nurse today?  May 6th is the beginning of a very important week in health care…National Nurses Week.  For all of the unsung heroes in healthcare my hat goes off to you.
The media is quick to relay the horror stories of patients receiving wrong medications or undergoing a wrong surgical procedure. What you don't hear in the news are the thousands of times that a simple intervention of a nurse has saved a patient unnecessary pain, trauma or anguish. The actions of a single nurse can calm a crying child, comfort a grieving family member and provide compassionate care to those who may not 'deserve it' in the eyes of the general public.
Once upon a time, nurses were expected, not only to be the right hand of the physicians in the hospitals, but to be the custodians, maintenance personnel, respiratory therapist, physical therapist, activities director and cooks.  I have had the honor to have a grandmother-in-law who was a 1932 graduate of the Charlotte Englehart School of Nursing.  She was always eager to compare her experiences as a hospital nurse to my own.  I loved to hear her stories of "the olden days of nursing" and she loved to hear about the "new fangled equipment and procedures" of today's nursing.  Despite nearly 60 years separating our entrances in the world of nursing, I couldn't help but be aware that there was always a common thread of compassion and concern for 'our' patients.
As we get set to celebrate Florence Nightingale's birthday, please remember the nurses who have touched your life.  Whether it is the nurse who handed you your newborn baby with a tear of joy in her eye, the nurse who explained a complicated surgical procedure with patience in his voice, the nurse who came into your home and became a member of your family or the nurse who greets you by name each time you attend an appointment at your physician's office, each nurse starts their day knowing that it may not be an easy day, but the trials will be worth it.  I would like to personally thank each nurse whom I have worked with, for I have learned something from each and every one of you – my respect and admiration knows no bounds!
Happy Nurses Week!!!
Julie Hobgood, R.N., can be reached at juliehobgood@dobsonhealthcare.com