* Marketing Director, Jenna Schrumpf, is a proud member of the Bay City Noon Rotary Club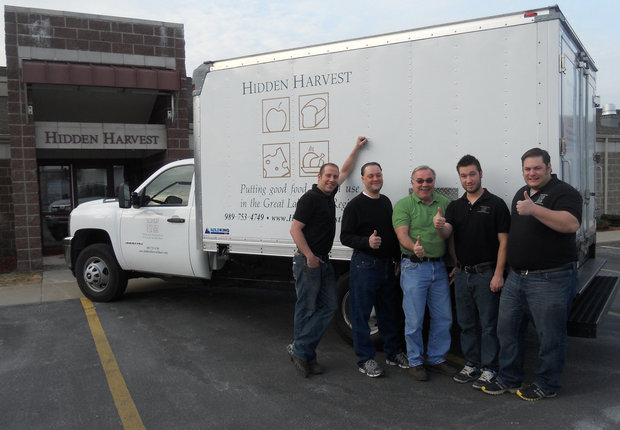 Hidden Harvest staff members, from left, Rudy Steiner, Matthew Crowe, Curt Hecht, Tyler Hecht and Jeremiah Janze, stand in front of a refrigerated truck that is to be in Bay City on Wednesday, Aug. 13, for a Community Food Drive hosted by Hidden Harvest and the Rotary Club of Bay City. (Courtesy Photo)
Two organizations that are near and dear to my heart are coming together this week to do some good and make a positive difference in our community.
And they need your help.
From 8 a.m. to 5 p.m. Wednesday, Aug. 13, the Rotary Club of Bay City and Hidden Harvest are joining forces to host a Community Food Drive.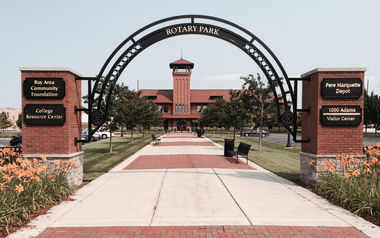 Hidden Harvest officials and members of the Rotary Club plan to fill a Hidden Harvest truck in Rotary Park, which is located in front of the Pere Marquette Depot in downtown Bay City.
It's a big truck and we're hoping to make a big difference. That means we need a lot of people to come down and drop off donations.
We're looking for non-perishable food items — stuff like canned soup, fruit and vegetables; rice; boxed potatoes; cereal; peanut butter; macaroni and cheese — but because the truck is refrigerated, we also can accept fresh foods and even meat products.
While we certainly hope area residents will stop by with bags or boxes of food, we'd also love to see area farmers with any surplus fruits and veggies. We'd love for local grocery stores to get involved and come down with any items they are willing to donate. We'd even welcome restaurants or institutions with cafeterias to swing by and drop off any extra food items they might have.
Those unable to donate food also are invited to make donations to Hidden Harvest to support its mission.
Now in its 20th year, Hidden Harvest is an agency that specializes in rescuing food from the trash and redistributing it to those in need. Already this year, the organization has taken in more than 1.5 million pounds of food and since its inception in 1994, has rescued and distributed 24 million pounds of food.
I am proud to serve on the Hidden Harvest Board of Trustees and believe deeply in its mission to alleviate hunger in the Great Lakes Bay Region.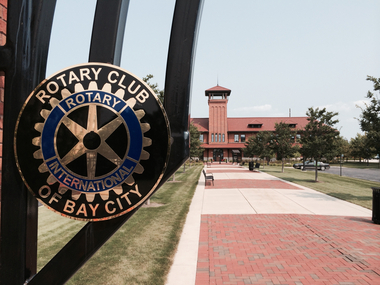 I'm also a proud member of the Rotary Club of Bay City, which is celebrating its centennial year and has developed several upcoming programs and events designed to give back to the community in honor of our 100 years of Service Above Self, which is our organization's motto.
Wednesday's Community Food Drive is the first such event and we sincerely hope all area residents will join us in our effort. Later this year and into 2015, we're planning other "give-back" events in partnership with a number of other organizations in the area.
Personally, I think the timing of the food drive is perfect because hunger doesn't take a break in the summer. In fact, with kids out of school, it often becomes more of an issue for families. So often, we think about hunger during the holidays, but the need goes on year-round.
So please consider taking a few moments over the next couple days to put together a food donation that can be dropped off on Wednesday at Rotary Park, outside the depot, 1000 Adams St. Your generosity will be much appreciated and make a huge impact.
Also, if you're looking to learn more about Rotary or Hidden Harvest, tune into the Art Lewis Show on WSGW 790 AM at 9 a.m. on Tuesday, Aug. 12, to hear yours truly and Hidden Harvest President and CEO Rich Premo talking about the food drive and our organizations.
We'll see you Wednesday and, as always, thank you.