BAY CITY, MI — Bay County Toys for Tots has a new distribution home this holiday season.
Bay County's campaign coordinator Jeff Jarvis said the Dobson family of Bay City has donated the use of its building at 3787 E. Wilder Road in Bangor Township where Toys for Tots officials will organize their annual toy distribution. He said the toys will be distributed before Christmas.
"The building is just for us to collect and sort the toys," he said. "It's not someplace that we're going to be all year round."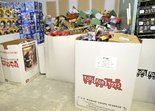 Toys for Tots and The Bay City Times are teaming up this holiday season to help make the holidays brighter for Bay County children.
Now through Monday, Dec. 16, you can drop off a new, unwrapped toy at The Times, 311 Fifth St., at the corner of Fifth and Adams, in downtown Bay City.
Our office is open from 8:30 a.m. to 5 p.m. Monday through Friday.
Toys for Tots volunteers will collect the toys and prepare them for distribution the week before Christmas.
A complete list of Toys for Tots drop-off locations, is available on the organization's website.
Toys for Tots had previously operated out of downtown Bay City's historic Dunlop Motor Co. building at the intersection of Washington and McKlinley avenues since 2011. The building had been available to Toys for Tots organizers while owners worked on leasing the property, but Jarvis learned this summer a finalized lease meant he would have to find a new home for Toys for Tots.
Jarvis said Toys for Tots is grateful the Dobson family offered to let the organization use the building.
"It's very appreciated," he said. "We're so glad to have such giving people in the community that are allowing us to use the facility like that."
More than 400 families already have applied for assistance since the Toys for Tots campaign began Monday, Oct. 28, Jarvis said. He said the locations for people to apply for the program have not changed.
Bay County residents can apply from 9 a.m. to 4:30 p.m. Monday through Friday at Suite 2 of the United Way of Bay County building at 909 Washington Ave. in downtown Bay City, or from 10 a.m. to 2 p.m. Tuesdays and Thursdays at United Bay Community Credit Union at 209 N. Mable St. in Pinconning. The deadline to submit applications, which are available on the Toys for Tots website, is Monday, Dec. 16.
Applicants are required to provide their most recent Department of Human Services notice of case action, a driver's license or state ID, birth certificates for each child receiving toys, and proof of income if not receiving financial assistance at the time of application.
Toys for Tots also is teaming up with the Bay Metropolitan Transportation Authority and Menardsthis weekend to fill a bus with toy donations.
A Fill the Bus event takes place from 9 a.m. to 5 p.m. Saturday, Nov. 23, in the Menards parking lot at 2864 E. Wilder Road in Monitor Township. Toys and monetary donations are accepted.
"Last year, we collected about 160 toys, but I'd like to do more this year," Jarvis said.
Monetary donations to Toys for Tots also can be made online or by check to: Bay County Toys for Tots, P.O. Box 35, Bay City, MI 48707-0035. Volunteer applications and forms to serve as a drop box location are available at baycountytoysfortots.org. For more information, contact the organization at 989-892-8687.